The Villa Room with its own private balcony is on the top floor and offers wide views over the city, the hilltops, and a glimpse of sea. It has wooden floors, a handcrafted king-size bed with
a New Zealand made futon mattress, and antique oriental furniture.
The Den, also situated on the top floor of the villa, is an ideal refuge for the discerning solo traveler. This single room has a broad desk, television and DVD player, and like all other rooms, complimentary internet (cabled as well as wi-fi).
A shared bathroom is a few steps away on the same corridor. Breakfasts are served on the first floor or on the main deck overlooking the gardens.
Let us know in case you'd like us to assist organizing tours and trips. We have a 'handout' for interesting places to go that are a bit off the beaten track.
When you are 'backpacking' or have quite a bit of luggage, and get here by bus, do inform us in time. Generally we'll be able to do a bus pick-up.
This studio is situated on the ground floor of one of Nelson's finest heritage villas. It is spacious, colourful and light. With its wooden floors, oriental rug and tasteful furnishings, you will find this studio an attractive place to stay.
The kitchenette is made of recycled native timbers and coloured glass panels. It has all the essentials, including a small electric oven and wok.
The stained glass windows give extensive views over the gardens and are situated on the north, which guarantees a lot of natural light.
The separate lounge area opens to a sheltered, private terrace, overlooking the fruit and herb gardens and various water features. This studio sleeps 2 people in a king bed.
The studio has all the facilities you'd need to be comfortable all year round. No immediate need for a car also, all shops and restaurants are relatively close by.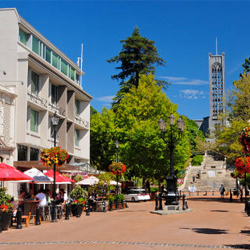 With just over 45,000 in population Nelson really punches above its weight in comparison to other New Zealand smaller cities. The region is known for its arts and crafts, its markets and the various festivals taking place throughout the year. The area has a large community of working artists, especially a lot of good painters and woodworkers, whose works and workshops can be visited on walking and driving trails through town and the region.
The Wearable Arts awards, a yearly event which mixes fashion, visual arts and theatrical expression, began in Nelson, and the museum showcasing the spectacular garments from years past is still here.
There is a lot of relaxed outdoor wining and dining in Nelson City. Hopgood's, a true destination dining location, has gained a reputation as one of the best restaurants in all of New Zealand and The Boat Shed, perched above the water at Nelson harbour, has been a local favourite for years.
Nelson is also known for its 'alternative' scene. Meditation classes and spiritual teaching of various kinds are all readily available. There are yoga courses and workshops on topics that vary from quantum physics to how to design your own mudbrick or strawbale home. Once a year Nelson hosts the Evolve Festival, one of the biggest alternative lifestyle expos in the country.
The beauty of the region, the flourishing art scene, the quality restaurants and the availability of good, healthy food, good schools and health care attract many people to the area to live, work and play.